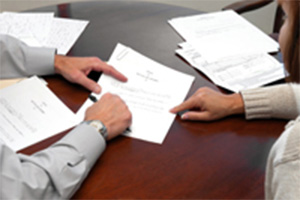 Attorney Stephen Kosa and his staff have been helping clients with Probate Administration in Hudson, River Falls, and surrounding communities in Western Wisconsin and Minnesota for many years. We'll work directly with your personal representative, one-on-one, to provide comforting and affordable guidance during this difficult time of loss.
What is Probate?
When a person dies, his or her estate must often go through probate, which is a court supervised procedure necessary to administer the estate upon death. The probate process is used in both Testate proceedings (when the decedent had a will), and Intestate proceedings (when the decedent died without a will).
(Click here to learn about Will Preparation)
Personal Representative
Upon setting up your estate plan you will be asked to make certain decisions. One of the first decisions will be choosing your personal representative (also called an Executor/Executrix or Administrator in some jurisdictions), to be named in your last will and testament. You will also be asked to name one or more backups in case your first personal representative is not able to serve.
The Personal Representative will work closely with a qualified Probate Attorney to satisfy the following objectives of the probate process:
Identify and inventory the decedent's assets.
Manage the assets during the probate process.
Pay the allowable debts, claims and taxes of the estate.
Determine the rights of the surviving spouse under the marital property laws.
Distribute the remaining assets to the decedent's heirs and/or trustee.
Obtain the necessary closing certificates from the tax authorities.
Properly close the estate with the Probate Court.
Contesting a Will
It is very complicated and difficult to challenge a will, no matter which state you reside in. The two most common legal grounds for contesting a will involve the testator lacking the mental ability to make what is considered to be a valid will, or that the testator fell victim to the influence of an individual so the will does not reflect freely made choices. It is crucial to seek guidance from a professional attorney skilled in such matters before advancing forward to contest a will.
The probate process can be complex and intimidating, especially while dealing with the loss of a loved one. Many people share the misconception that probate is by nature a costly and exhausting process. This need not be the case.